Eyeing a cocktail to enable your guests to hook on with just one sip? The lush, slightly fruity and slow," Old Fashioned With Cherry" holds superiority here. Mellow flavors of added cherries click the senses of drinkers instantly. The happy moments are just ideal to say Cheers to Cherries with a twist in Old Fashioned Cocktail.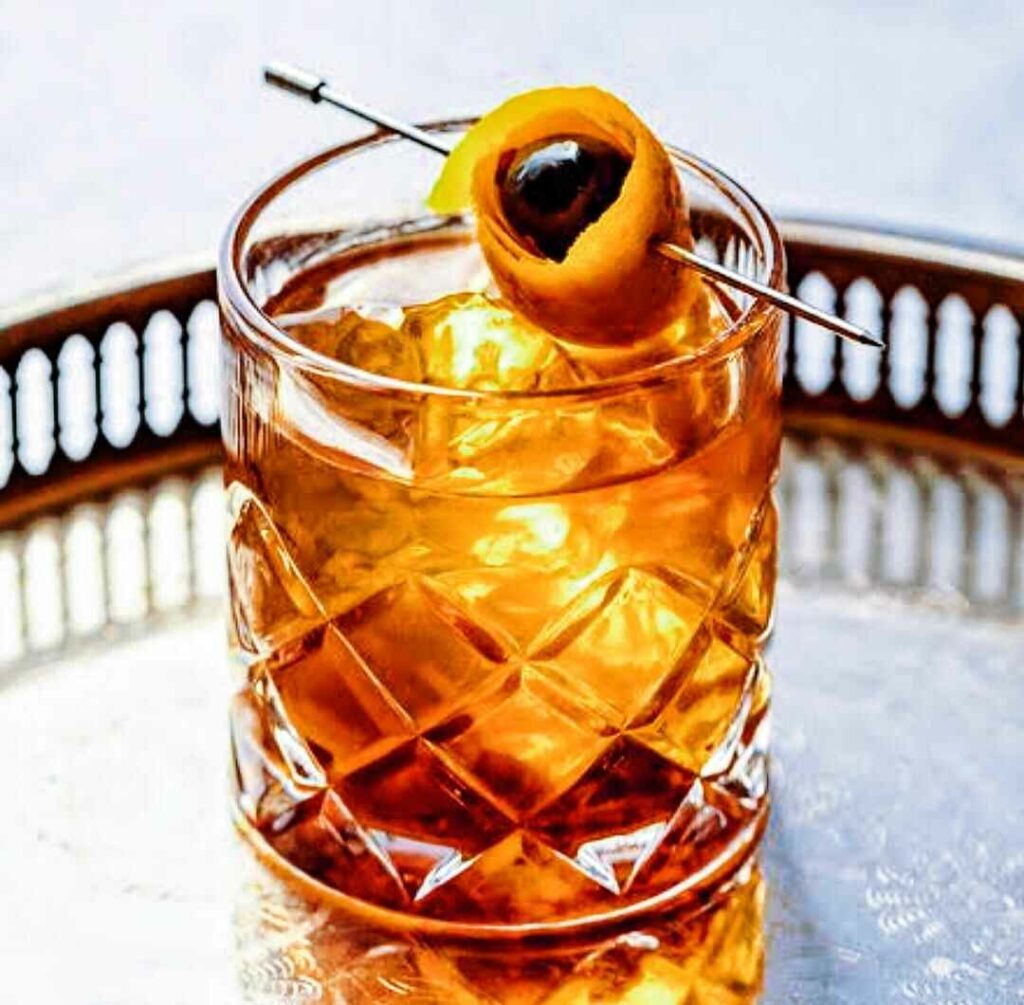 All you need to grab a handful of fresh & juicy cherries and fuse them with the elementary ingredients of the classic Old Fashioned Cocktail.
Which kind of events deserve a treat of Old Fashioned with Cherry?
Whether one wants to dial down the warmth of summer or uplift the tenderness of spring, Old Fashioned with Cherry fits well on such occasions. The slow sips enriched with the fusion of sweet, tart, and spicy flavors inject ample freshness in the guests.
Which ingredients become the soul of a rich & classy Old Fashioned With Cherry cocktail?
To make an Old Fashioned with Cherry you will need to blend the below-listed ingredients in one rock glass. The in-depth knowledge of each ingredient's impact on the drink and their apt amount will make you the master of mixing.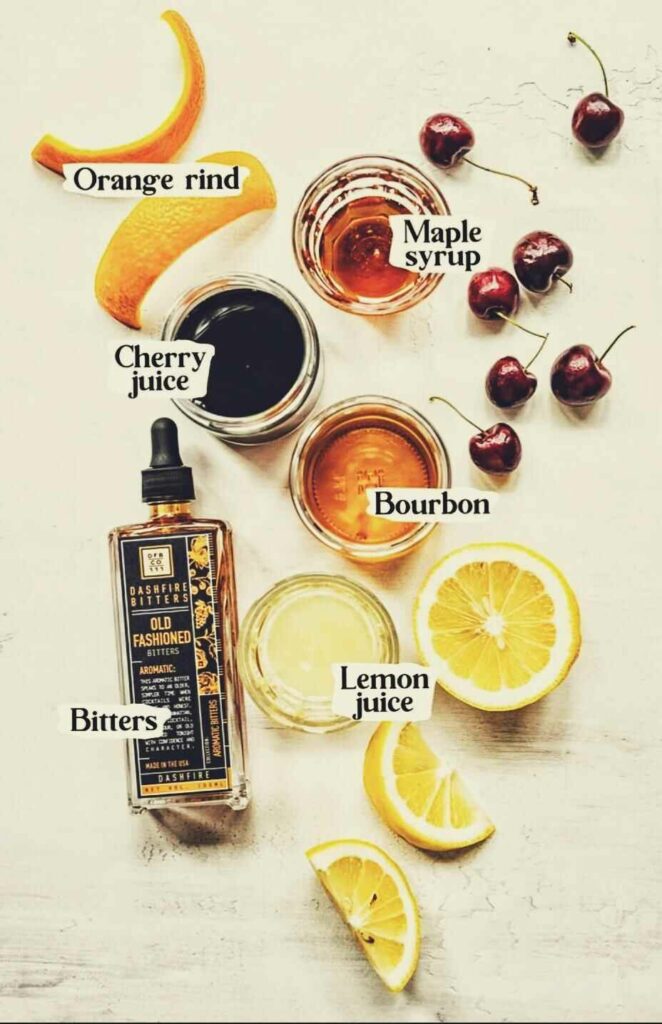 Have a glimpse!
4 ounces (oz) of bourbon or whiskey –
Well, you must avoid picking any expensive bourbon to make old-fashioned with cherry. The prime cause behind it is its subtle & soothing taste. Instead of bourbon, go with a whiskey option having a sharp spirit flavor. Blending the bourbon with cherries will overshadow its slightly spicy flavor. Hence here the formula of " less expensive is more perfect" goes very well.
4 dashes of Angostura bitters –
Without a few drops of any traditional bitter an old-fashioned recipe feels bland. Angostura bitters uplift the spicy and herb texture of the drink. Along with adding an instant flavor to the palate, bitters dissolve depth to old-fashioned cocktails.
4 ounces of tart/sugar-dipped cherry juice –
Here comes the soul ingredient of this classic cocktail. It is completely a matter of personal taste, you want to make it excessively sweet or slightly tart. If you are infusing a small amount of maple syrup, it is highly recommended to use tart cherry juice. Sweetened cherry juice is also good to go with.
1 ounce (oz) fresh lemon juice –
When we talk about the secret ingredients and tricks of professional bartenders for creating a magical old-fashioned with cherries, "just a few drops of freshly squeezed lemon juice" pop out. It finely balances all the flavors mixed in the rock glass.
1 ounce (oz) maple syrup –
Maple syrup with cherries, what a bizarre! The first thought strikes in mind of the drinkers. But you can't imagine what magic the right amount of caramel-flavored maple syrup can do in this old-fashioned. Prefer simple and real maple syrup instead of pancake syrup.
A finely peeled orange rind –
Willing to give a professional bar look to your old-fashioned cocktail? Don't forget to infuse the tantalizing citrus aroma of orange peels or rinds. It is solely used for garnishing purposes. Feel free to skip it if your palate doesn't like it.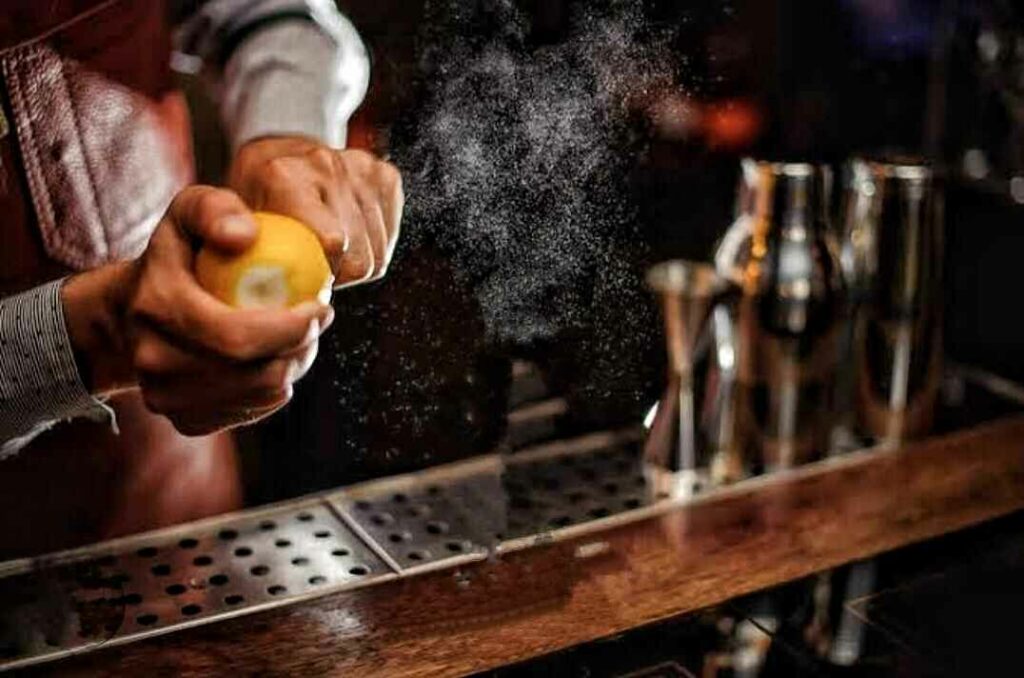 How to fuse all the flavors of Old Fashioned with Cherry like a professional?
Uplifting the moods of your guests through a drink isn't that easy. Here is the perfect guide to apprise you of the chemistry of mixing the excellent ingredients in the right amount.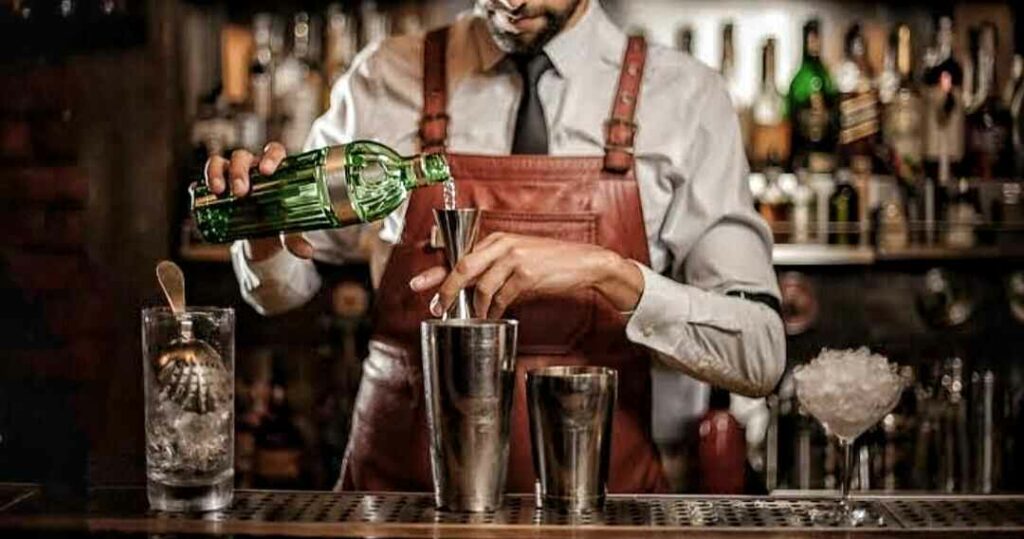 Take a cocktail shaker and fill it nearly half with the clear ice cubes.
Pour all the ingredients (bourbon/whiskey, bitter, maple syrup, lemon juice and cherry juice) into the cocktail shaker according to the given amount.
Shake it properly to mix all the added ingredients for a few minutes.
Now strain the well-mixed drink into a quite chilled rock old-fashioned glass.
Put a large & clear ice cube with the help of an ice tong.
It's time to garnish the drink. Take a finely peeled orange rind and twist it gently over the top of the glass. Rub it on the rim of the rock glass and place the twisted rind in the glass.
Take a cocktail pin for holding the well-rinsed cherries (1 or 2) and place it on the top of the glass. You can simply drop the sugar-dipped cherries into the rock glass as well.
Place the drink intact for a few moments to get it settled and you are good to go for serving it.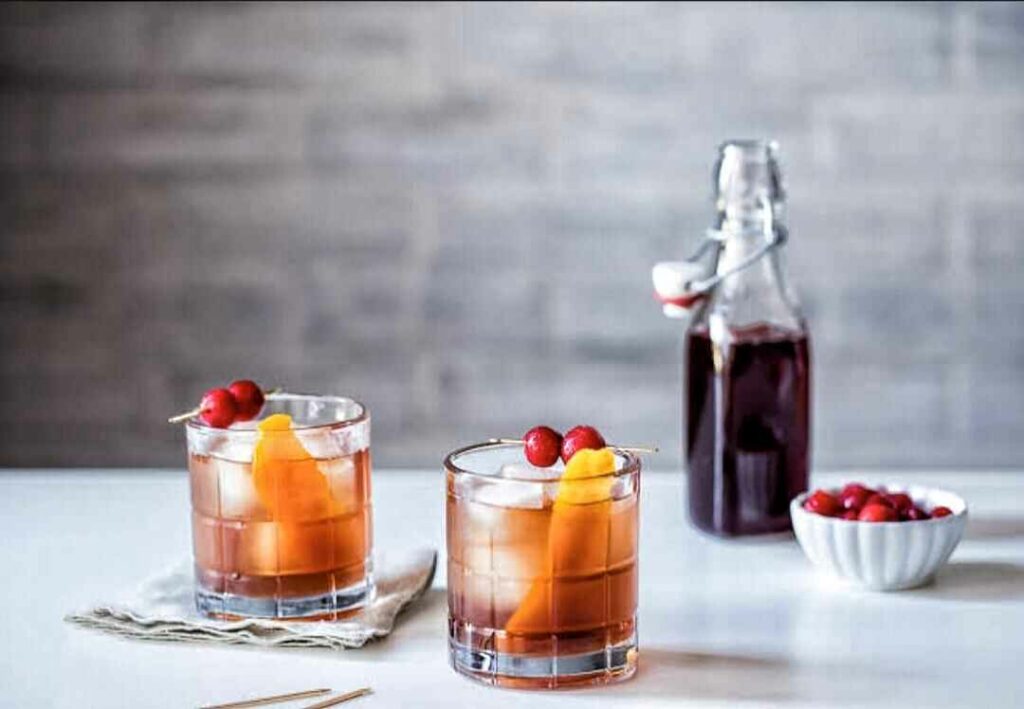 Some tricky tips from expert bartenders or mixologists -:
The timely upgradation and experiments by the professional twist the old stories of old-fashioned drinks and Old Fashioned with Cherry is no exception in this context.
Here are some hidden facts to create an unforgettable Old Fashioned with Cherry.
Use professional mixing tools instead of your ordinary kitchen utensils. It enhances both, the look and taste of the old-fashioned cocktails.
In place of dense and hazy small cubes of ice, go for the large and clear ones. They melt at a slow pace and keep the cocktail chilled for a long time. To give a unique presentation to a cocktail, try some different shapes of large ice cubes.
Prefer whiskey over any expensive bourbon to tickle the palates of your guests with a slightly spicy flavor.
Too much sweetness doesn't go parallel with the classic old-fashioned cocktails. Therefore cut down the amount of maple syrup to half if you are adding sweetened cherry juice.
Prepared the drink before the party and worried about storage? Here's the solution. Keep the drink in a pitcher and store it in the refrigerator. Don't forget to stir well before serving your guests.
Stirring is an integral part of mixing drinks. Too much or too little can harm the flavor and look of the cocktail.
For garnishing use the minimum ingredients. Adding too much to glorify the presentation can change the authentic taste of old-fashioned cocktails.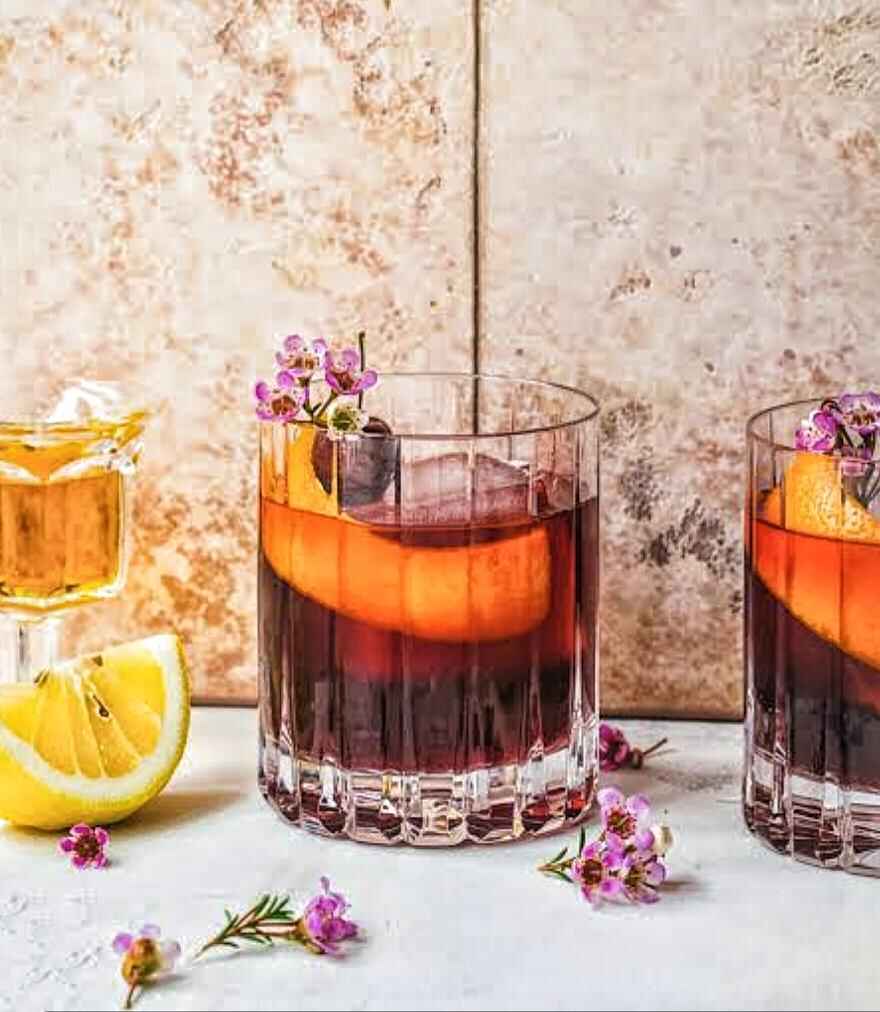 Frequently Asked Questions (FAQs) –
Q – Which bitter is ideal for the Old Fashioned with Cherry?
A –  Dashfree Vintage Orange, Grapefruit, Lemon and Lime bitters are some frequently used bitters but aromatic Angostura or orange bitters are most popular.
Q – Which whiskey is best for the Old Fashioned with Cherry?
A – 2XO, Angle's Envy Rye Whiskey, Basil Hayden and District Made rye whiskey are good for Old Fashioned with cherry for their sharp flavors.
Q – Why use large ice cubes instead of small ones in an old-fashioned cocktail?
A –  It melts slowly and gives a great look to the drink.
Q – Which cherry brand one should pick for an old-fashioned fashioned?
A – Luxardo Maraschino cherries are best for any old-fashioned drink.